Surprise launch of Risk of Rain 2 for consoles at PAX West! Roadmaps announced as well!

Hopoo Games and Gearbox has recently released action-packed co-op shooter, Risk of Rain 2, on all major platforms – PlayStation 4, Xbox One, and Nintendo Switch – at PAX West during Gearbox's main show.
Gearbox and Hopoo Games have worked with PlayEveryWare to port Risk of Rain 2 to the consoles, and since this game is still in Early Access on Steam (buy for PC), this partnership will continue for the upcoming updates. The release on console includes the Scorched Acres update which features the Scorched Acres stage, survivor REX, and more.
Here is the roadmap: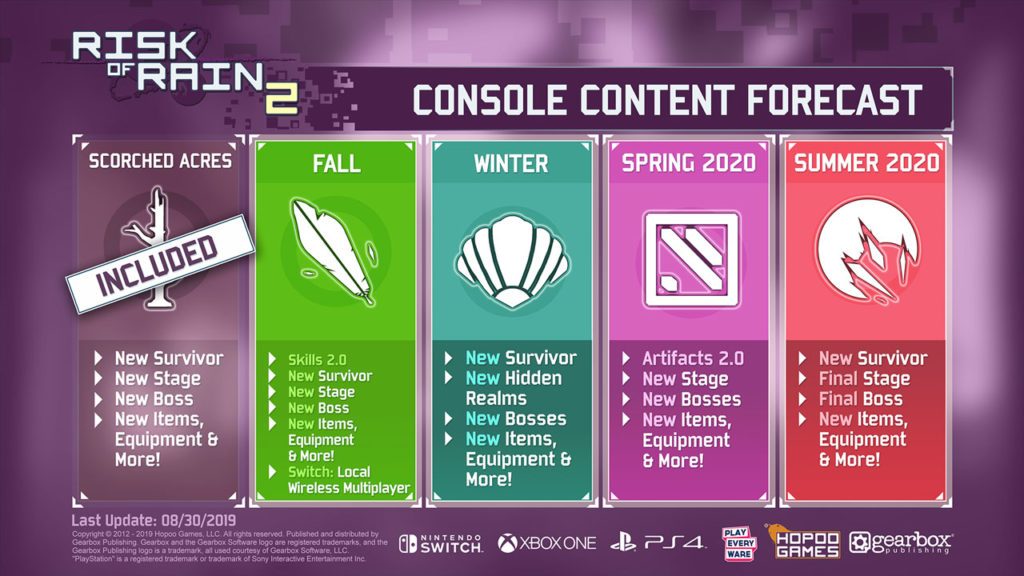 Risk of Rain 2 is available for $29.99 for the console version, while it is $19.99 on Steam.
Buy Risk of Rain 2 on your preferred system:
We are using affiliate links to help us fund the website if you ever buy through the links provided.
Play four player co-op seamlessly through Steam — no more port forwarding
Unlock over 75 items over time, keeping each run fresh and full of new challenges
Play and unlock new and returning survivors, each with their own abilities to master
Theorycraft and exploit endless item and character combos
Encounter challenging monsters and enormous bosses
Explore massive, handcrafted 3D levels
Discover lore through the collection of Monster, Item, and Environment Logs
Challenge your friends—and the world—in all-new Prismatic Trials, a unique seeded run where everyone can race up a global leaderboard