Be a landlord in The Tenants, a tycoon sim management game, where you will buy properties, negotiate contracts, and stylize and renovate rooms!

The Tenants is developed by a small game development company, Ancient Forge Studio, and this is their second game for their portfolio. This is also the second game for the publisher, Frozen District, who released House Flipper, another unique indie game on Steam.
The game is all about being a landlord. However, it is not that easy as you need to find tenants, do renovations, and buy properties to build your reputation and rental business.
The Early Access was released on March 25, 2021, and I am currently playing the 0.55 version of the game, which was released on April 28, 2021. The developers also announced the roadmap, and if everything goes well, the full game will be released in 2021.
In the meantime, this will be my Early Access impression as I am intrigued about this game, and I have wanted to check it out.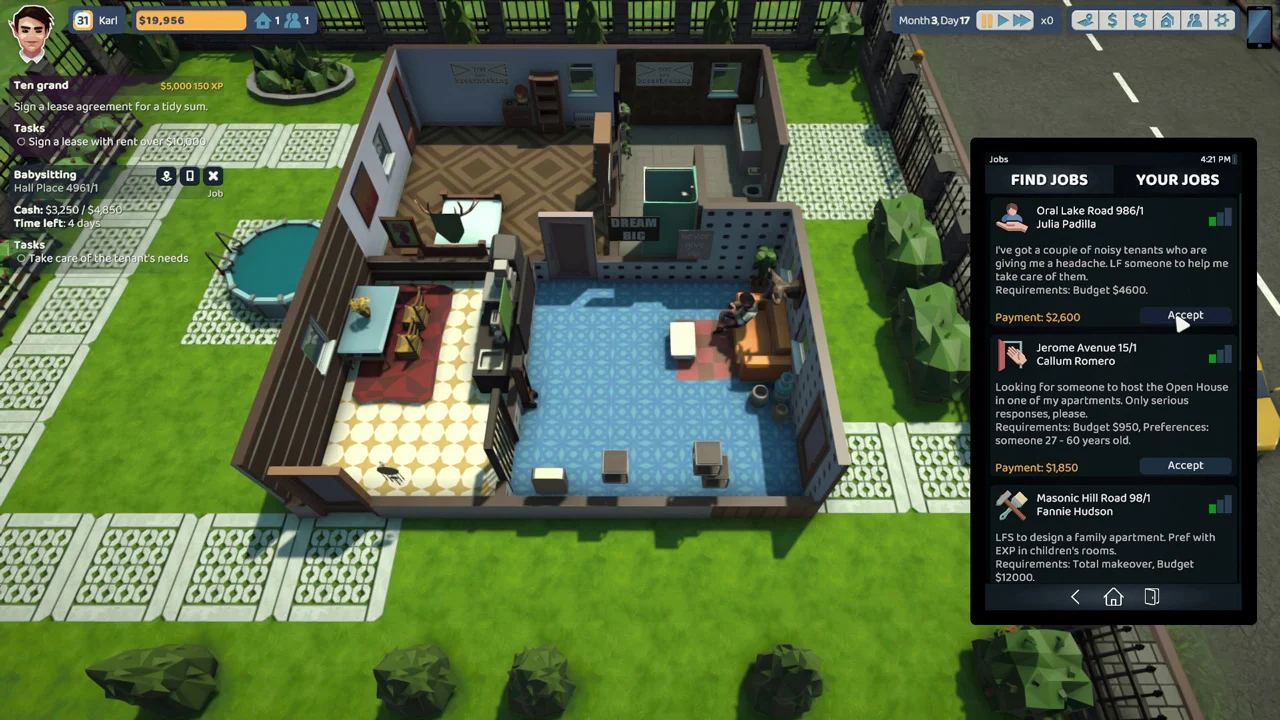 At the start of the game, you have to name yourself and choose your avatar. It does not have a lot of customization on this part, and I think it is fine because you do not see yourself at all in the game. After all, it is a tycoon management game.
Afterwards, your uncle will show you a quick tutorial on how the game works such as getting jobs on your phone and renovating a place. He is also a very good handyman and will do work like fixing the needed repairs for you and your tenants, and clean an apartment before you can renovate.
For starters, your uncle will also give you your first rental apartment. You can renovate it any way you want. Of course, you need money to buy furniture and decorations, and that is why taking other jobs and finishing them on time will give you good ratings and income.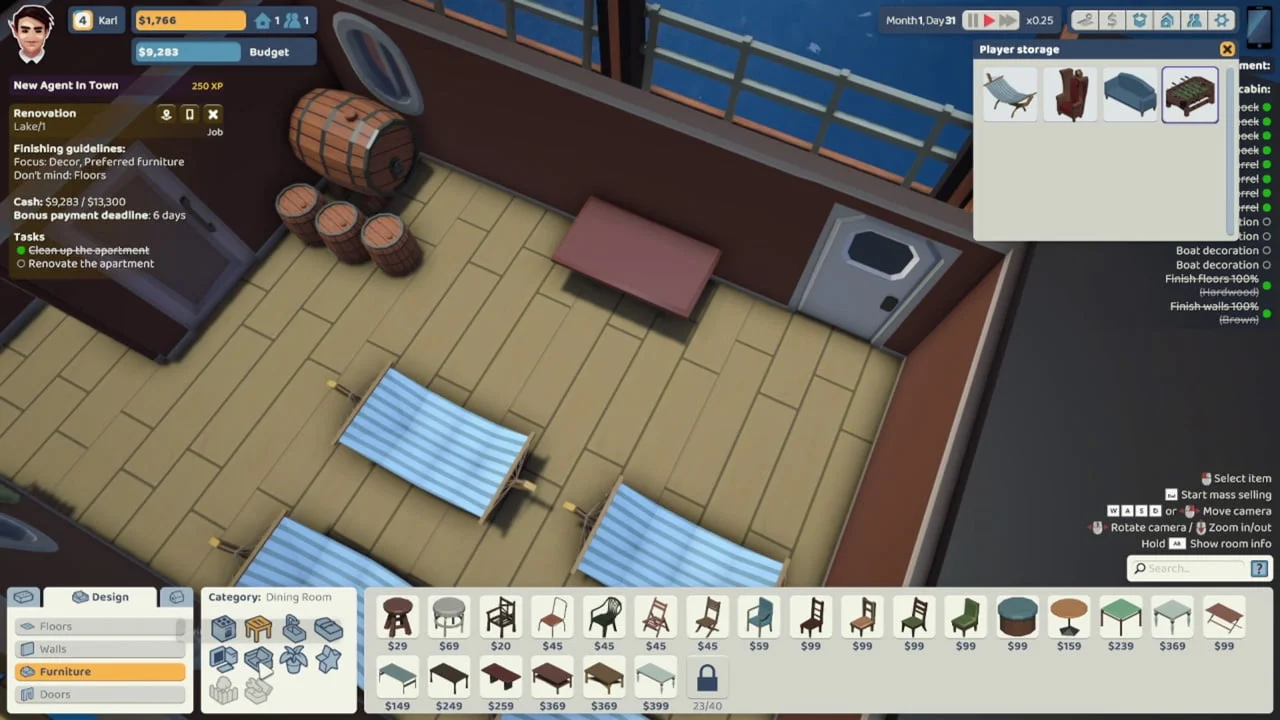 What are the various jobs you can take in The Tenants? I think there are 4 job varieties here; total makeover, specific renovation, babysitting other agents' tenants, and open house to look for a tenant. Honestly, this is too few in my opinion, and hopefully, more variety will be available in the next update. As far as I know, you can only take two jobs at the same time to prevent you from being overwhelmed.
Each job has a different gameplay. The total makeover job is the longest to finish as you have to clean the house and fix the broken furniture first before you can renovate. If the furniture is successfully fixed, you can actually take it for yourself or you can sell it for a profit. Usually, in this job, you must renovate from the ground up, meaning you need to build the walls for separation as well. There will be guidelines on what type of rooms you are required to build like bedroom, common area, kitchen, bathroom, and many more, so it will take a good amount of time to finish. Moreover, there are Elite versions of this job, which will have higher rewards and better furniture that you can acquire.
The next job is the specific renovation job, and it is mostly the same as the total makeover job, except you only need to renovate a specific room. This is usually the kitchen, the bathroom, or the children's bedroom. It takes significantly less time, and you will not get any furniture in this one since you go straight into renovating.
The babysitting job is technically an idle job since you only need to take care of the tenants if they have problems, which is kind of easy to fix. It is just a click of a Yes-and-no scenario, and more often than not, you will probably forget they exist if you did not notice their texts to you. I usually get a job like this as a secondary job since it is easiest, and it is a passive job.
Lastly, it is the Open House job, which is another easy job as you only have to talk with potential tenants and see if they meet the criteria based on the owner's requirements. If they do, negotiate a good contract and you are done.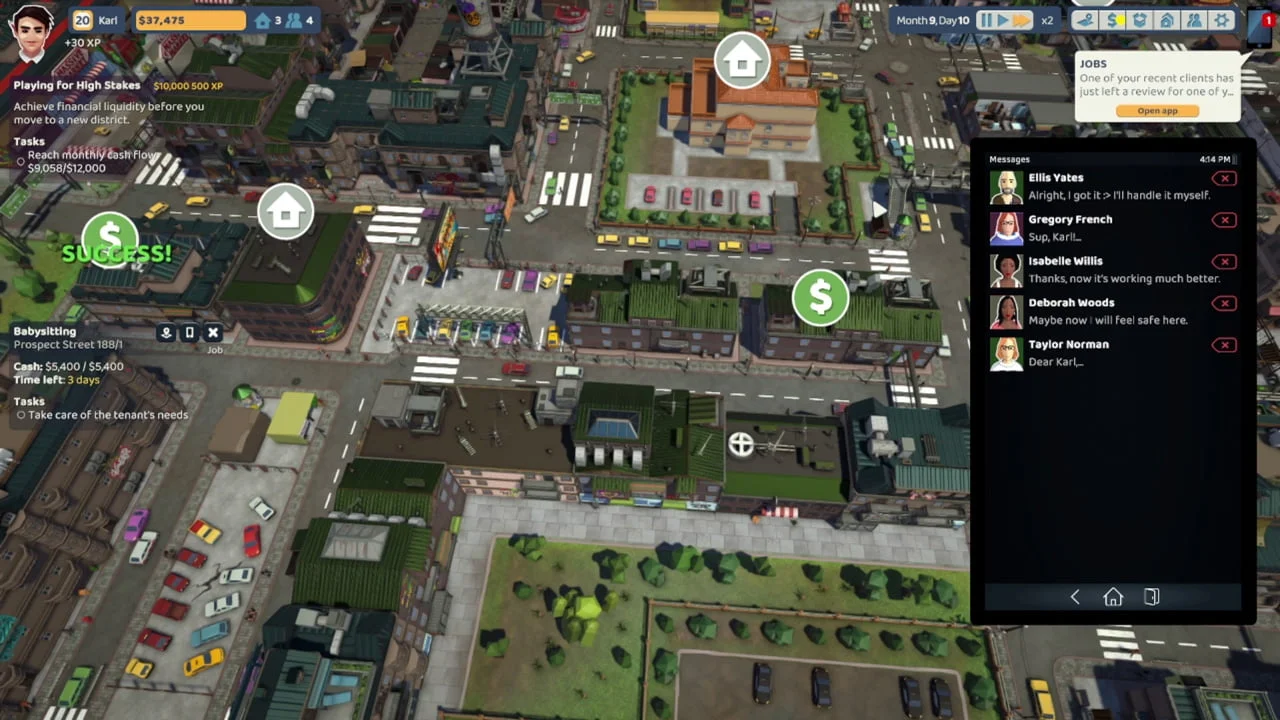 As you can see, there is not much variety in the jobs, but for the total makeover job, you can get some pretty nice items you can use when you buy a property. Speaking of buying properties, you need to grind a lot – let me emphasize A LOT – or of course, you can loan from a bank because they are so expensive to buy, especially once you move on to the next location.
This makes the game very grindy in my opinion, and it actually took me 10 hours just to move from the Slums (first location) to the Suburbs (second location) because you need to achieve 12,000 monthly income from your properties. I had to buy 5 properties to reach that amount and I had to take several jobs to buy properties.
It may sound so negative, but I truly enjoyed renovating my properties and even doing renovation jobs, and it is rewarding when you level up as you will unlock more items, but it is becoming more and more tedious as you go along.
Additionally, the fact that the game is grindy makes you want to do average on the job because as far as I can see, the reputation feature of the game does not do anything at all. There is no consequence in doing poorly in this game yet.
The game could improve vastly on just giving much more variety on jobs and maybe cut down the prices of the properties in the next update so we can actually enjoy being a landlord to the tenants.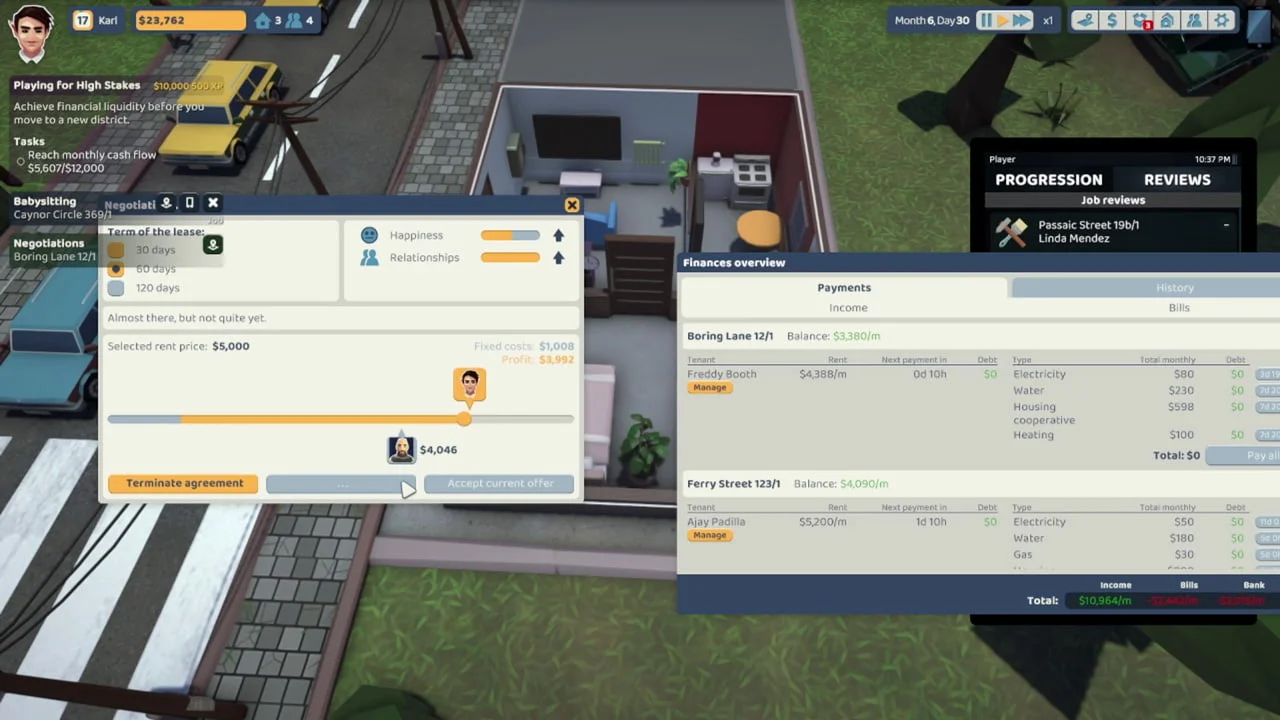 Sadly, the tenants, the actual people living on your property, lack personality and uniqueness. It also hurts that they all look the same. Their main purpose in the game is to text you when they cannot pay the bills and when there is a problem in your property like a cockroach infestation, broken electricity, etc. It is also like a mini-game if you choose to send your uncle since he is free, and you will have to control him, but it is better to just pay a professional to do it.
All of your tenants have a relationship bar for you, and I do not think it works right now. As I said, there is no consequence in doing things poorly in this game, and that includes not caring about your tenants. Plus, they will always haggle down their rent once the contract is about to end, and even if you do good for them, they will most likely not accept the same rate, so you will end up just looking for a new tenant that will pay you higher, anyway.
Once you move to the next location, you can hire an agent that will help you handle the previous location, and they have different skillsets with different pay. They usually handle all the things that you do in the previous location, so you have to do less with an agent and just focus on your new place. I always go for the one who can negotiate best with my tenants, considering I already accept that they will haggle for a lesser price, however, it is a good practice to find new tenants every once in a while to get maximum profit.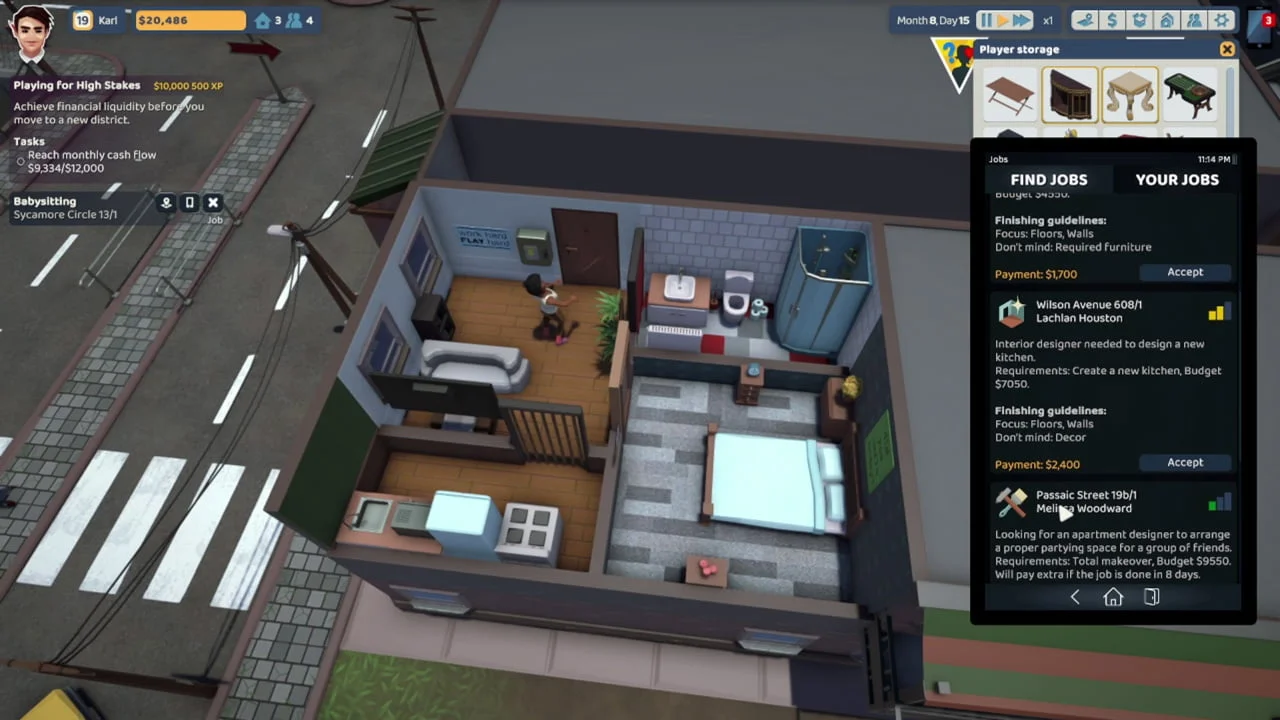 Regarding visual presentation, I must say the graphics look decent for an indie game, although I wish there would be more variation of the tenants and their animations. It kind of reminds me of The Sims without needing to please your sims' needs. Hopefully, the developers can put pets too in the future as well as more animation while you are just watching your tenants.
The audio is okay-ish but needs a lot of improvement. The game badly needs a radio feature because the soundtrack is repetitive, or just add more soundtrack. The tenants do not really talk as well, and they are more or less just let out reaction sounds when you are negotiating with them.
The controls are easy to get used to, I saw some reviews on Steam saying the controls are buggy, but I never really encountered any bugs nor hardships when playing the game. Although, the snapping of furniture when renovating could be improved because it is quite annoying when you have to keep moving the kitchen set towards the wall because it refuses to do so in the first place.
In conclusion, The Tenants is still an Early Access game that was released in March 2021 and had a major update last April 28. It has the potential to be great, but I hope the developers will keep the updates moving every month to add more content and have a better Quality of Life in the game.
The Tenants costs $19.99, £15.49, 16,79€, and ₱449.95 (50% lower than the three currencies). Am I going to recommend getting it now? It depends on the type of a gamer you are, if you like renovating homes, I think this game is already solid in that department. On the other hand, if you want to be a landlord, I think you are better off waiting for this game to be updated to have better management gameplay.
By the way, this game is expected to be fully released in 2022, so I am expecting a lot of updates in the coming months leading up to their expected release date.
How about you? Have you played the game? Let us know in the comment section below!